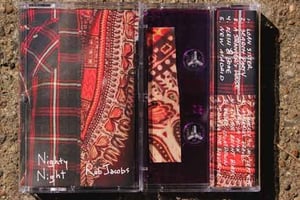 $

5.00
CHOOSE YOUR TAPE!!
The Nighty Night / Rob Jacobs split cassettes are here!! Flannel side has Nighty Night's Loan Sister EP plus 2 unreleased songs that were recorded in Chicago on their summer tour 2011. Dashiki side has 6 songs written by Rob Jacobs recorded in special versions exclusively for this tape, performed by Rob Jacobs and John McCowen, with a guest appearance by Kevin Ohlau. All songs recorded by David Allen. All on a sticky sweet grape tape!
Flannel Side - Nighty Night:
Loan Sister
Search Party
A Stranger's House
Flesh & Bone
New Madrid
Neon Ghost
Dashiki Side - Rob Jacobs:
Blackfly In My Left Eye
Material Graves
Lady In Pink
All The Bright Birds
Rebar Countdown
Dancing The Siguiriya
SKI-006
Digital downloads available with purchase!! email us.
-----
Spokesmen's New Land EP on beautiful blue cassette, with screen printed covers.
Side A:
New Land
DNR
SIde B:
No Organs
Wrong Power
SKI-004
-----
PARLOR's Self-titled LP on super limited purple & yellow tape! 11 songs! On Let's Pretend Records.
LPR-047
-----
North Americans entire discography, plus live recordings on a hand painted tape!
SKI-002